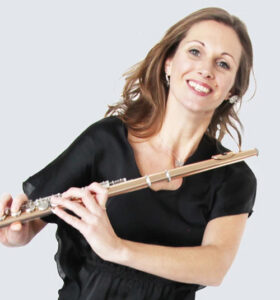 We present Katrina Penman, flutist and composer, and her works edited by B&M
Katrina Penman was born in London in 1982 and began flute lessons at the age of eight. She studied composition and arrangement with Dr Timothy Bowers. She was a Scholar at the Royal College of Music as a flute student of Jaime Martin from 2001 to 2005.  Katrina carried out postgraduate studies at the Accademia Nazionale di Santa Cecilia and at the Conservatorio Santa Cecilia in Rome, and at the Accademia del Teatro alla Scala in Milan, where she studied for two years with Davide Formisano.  In 2006 she began to perform as an extra at Teatro alla Scala under conductors such as Dudamel, Chailly and Harding, and subsequently performed with the Orchestra Nazionale di Santa Cecilia under Pappano and Termirkanov, and the Symphonica d'Italia under Lorin Maazel.  She moved to Spain in 2009, and over the last ten years has played with many of the major symphony orchestras in the country (Orquesta de la Comunidad Valenciana with Placido Domingo, Sinfonica de Castilla y León with Vasily Petrenko, etc). She has premiered works by Spanish and American composers with her group Trio Rigoletto, and given premieres of works by Pablo Toribio and Mark Fish at the flute conventions of Great Britain (2014), Spain (2016) and Portugal (2016).  Some of Katrina's own compositions have been premiered by ensembles such as AFLAUP (Association of Flautists of Portugal), by whom she was also awarded a composition prize, and published by Sonata Ediciones.  Katrina currently works as music arranger for the Sinfonica de Castilla y León's educational project called "In Crescendo", where she is also a flute teacher. She has also worked with Teloncillo Teatro as a flutist and musical director for different projects since 2014.
---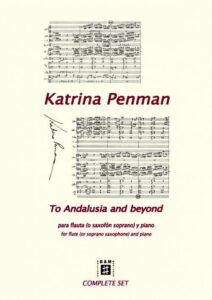 "I wrote this piece at the end of 2016, after having been on tour in Andalusia and having the opportunity to get to know this beautiful region better. That same year, I had several conversations with the well-known flute player Wendela van Swol, who is based in Cordoba, who encouraged me to write a new piece for flute and piano. On arriving home, I was inspired by a melody that I found in an old book given to me by my godmother, which had belonged to her father, a talented amateur musician from Scotland who had collected music books on his travels around Europe. After that, I began to create sections for the piece, based on Andalusian musical forms such as the Rumba and the Soleá, as well as other free sections. I premiered this composition in concert in Valladolid in January 2017 together with the pianist Mario Rosado, who also edited the piano part. The following year, I created a version for soprano saxophone, together with my brother Alastair. "
---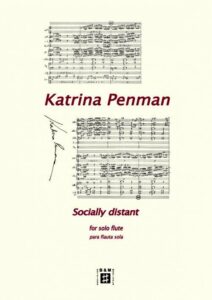 "In this piece, a lonely person who is isolated in their home due to the corona virus alert searches for dialogue. A distant response comes from within, or perhaps from without.  The protagonist battles with uncertainty, finally letting out an anguished cry. A neighbour knocks on the door to offer comfort. It is evening, and echoes of music from the windows and balconies of locked in musicians around the world are offered up. The protagonist once again confronts their anxiety, searching for an identity, and finds solace in the music that has come to symbolize this period in many of our lives, at this strange and unsettling time."
---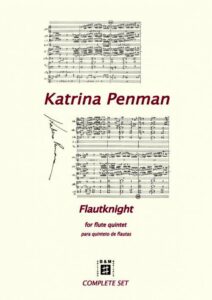 "This piece was composed for the competition organized by the US Flutists' journal, The Flute View in honor of Sir James Galway's 80th birthday and the 30th Galway Flute Festival. As a winner, the piece was premiered at the Festival, in Weggis, Switzerland, on 24th July 2019. It was performed by Elisabet Franch and Barbara Siesel (flutes), Aslihan Andd (piccolo), Andrea 'Fluterscooter' Fisher (alto flute) and Viviana Guzman (bass flute), with Sir James Galway in attendance as guest of honor.
When creating the piece, I wanted to write something that would pay homage to Sir James Galway as an iconic flute player and musician that brought the flute to the wider world through his recordings of popular classical music. As a flute player myself, I was introduced to his music as a child, and I looked to my first memories of hearing 'the Man with the Golden Flute' as inspiration. The result is a piece that combines eleven different musical motifs, each of which represents Sir James."
---
Sonatina para flauta y piano (Sonatina for flute and piano)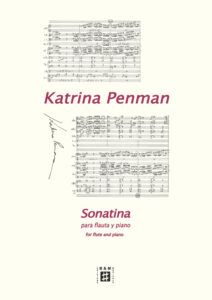 "The Sonatina, completed in 2021 in the wake of the coronavirus pandemia, is inspired by nature, literature and legends from the northern coast of Spain. The piece communicates the transcending joy of having completed a journey and overcome difficult times, since every person on this planet went through some kind of personal evolution at this time."
Daughter of the sea (La hija del mar)
At moonshine by the sea (Deva – diosa de la luna, en la orilla del mar). Cadenza
After the rain (Nunca choveu que non escampara)
---
The composition of this Suite of three pieces was motivated by feminine creativity.
I. La hija del mar (Daughter of the sea) is inspired by the first novel of Rosalía de Castro. The music was created out of a Galician melody that was given to us.
II. Nana del exilio (Lullaby in Exile) – inspired by the following poem by Sylvia Plath after giving birth to her son Nicholas in her adopted country.
III. Adio (Farewell) – inspired by different historical farewell songs, by characters such as the young sephardic girl Julie Cohen and the courtesan Violetta Valery, and in these recent lines by the poet Elvira Sastre.
---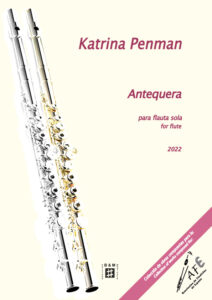 "The inspiration for this piece comes from the area of Antequera, in the province of Málaga, in the heart of Andalusia. In the rural area surrounding the city, we can find the striking "Lovers' Mountain", where, according to a legend, a Christian commander and a Muslim princess threw themselves to their deaths, in order to be reunited in the afterlife in a love which proved impossible during their lives. Beneath the mountain, the land is rich with white poppy plantations, the flowers that are cultivated in order to make medicinal opium. These are a few of the images that inspired this composition: the joy of love, the bravery and desperation of the lovers, their remains that lie below the flowers that now bloom in the fields, and their free spirits that fly eternally through the skies of this land."
---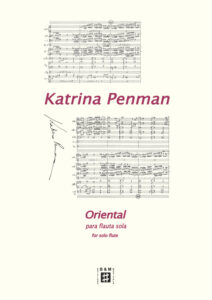 "This piece is inspired in the traditional bamboo flutes of the oriental countries. In the prelude, the melody of the first theme uses sounds that remind us of these flutes. The sounds used are inspired in the musical language of Toru Takemitsu, since this composition was started in 2016 and rewritten finally in 2021, coinciding with the 20th and 25th anniversaries of his death, respectively. Following this, the variations are written in the style of an "étude de salon", following the tradition of romantic composers such as Donjon, in this case exploring the full extension of the flute."
---
You can find the links and audios in the website and also in our Canal YouTube